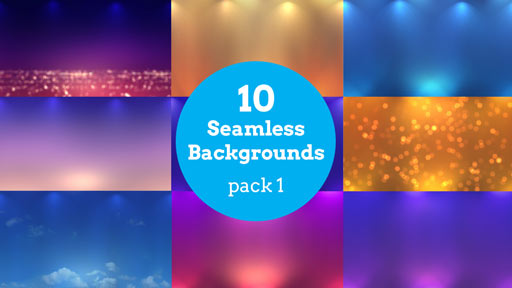 FREE Seamless Backgrounds (Pack 1)
10 PNG images
---
4K (3840 x 2160)
€
0
Add to cart
---
This is a pack of 10 seamless backgrounds. All the images are uncompressed PNG24 format at 4K UHD resolution (3840 x 2160) and will repeat horizontally without a visible join.
If you're using a Tricaster with our Studio 2 virtual studio set, you can simply load any of these images into the 'cyclorama' placeholders to instantly give your studio a brand new look and feel.
You are free to customize any of these images, or use them as the basis for your own designs (provided you're not re-selling them).
In this pack you get the following backgrounds : 'Neutral', 'Evening Bokeh', 'Warm', 'Cool Blue', 'Deep Blue', 'Morning', 'Blue Sky', 'Fire Bokeh', 'Dreamy' and 'Moody Blue',
By the way..
Yes!
These are FREE!
But if you want them, you will need to provide your actual (i.e. real) email address so that we can send you an email with a link to download them! Also, you may receive our (very) occasional newsletters. If you provide a bogus email, such as asdfdfasdsafd@asdfdsafadsfdasfdasf.com, then you won't receive the newsletter, but you also won't receive the free seamless backgrounds… :(
Available only here at
VirtualStudioSets.com