May 6, 2016
We've added vMix compatibility to all Studio 2 products.
All the Studio 2 products still come with a TriCaster VSE compatible Photoshop file, plus all of the individual layers and mattes in PNG format, but you now ALSO get an additional folder with a special version ready-to-go as a vMix virtual set.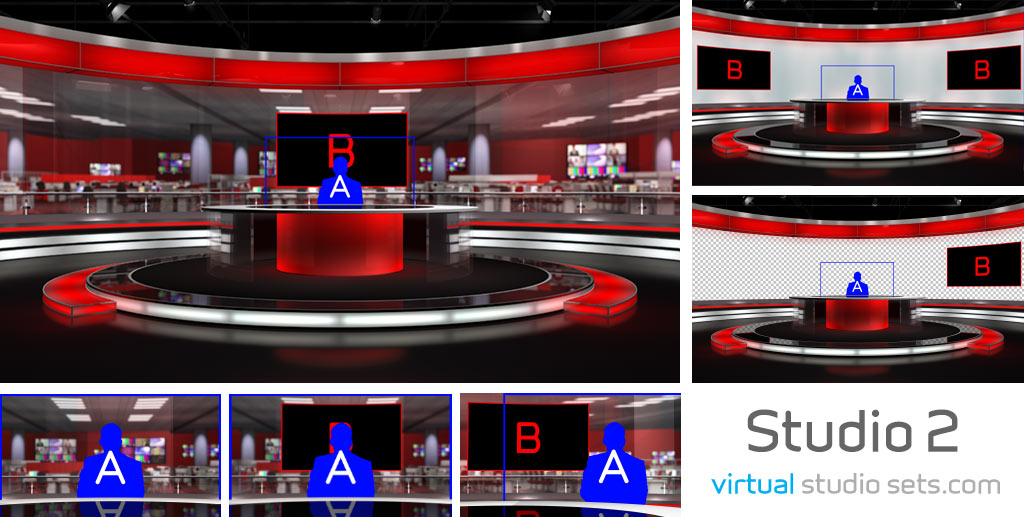 Each vMix set comes in its own folder containing the various layers needed, plus an XML file (config.xml) which tells vMix how to display the layers, and in what order.
1. Background (dynamic). By default the config file is set up to display the static newsroom image, but you can change this to show another live input if you want – for example, the pre-comped looping newsroom backgrounds that are also included. You could also create your own background and use it here instead.
2. Screen/s UV (dynamic) – you can feed these with your own input source. A number of alternative UV maps are supplied which will allow you to display (or remove) any of the 3 virtual screens in whatever combination you like. So you can choose to have a single screen, any two, or even all three visible at the same time.
3. Midground layer (image). This has a section removed to allow the screen reflections behind to show through and appear in the desktop. A separate version (without the missing section) is also supplied in case the desk is not used.
4. Talent UV (dynamic). This also has desktop reflections built in. A spare UV gradient is also supplied without the desktop reflections.
5. Desk (image). This has a semi-transparent centre section to allow the reflections to show through for talent, screens, and background.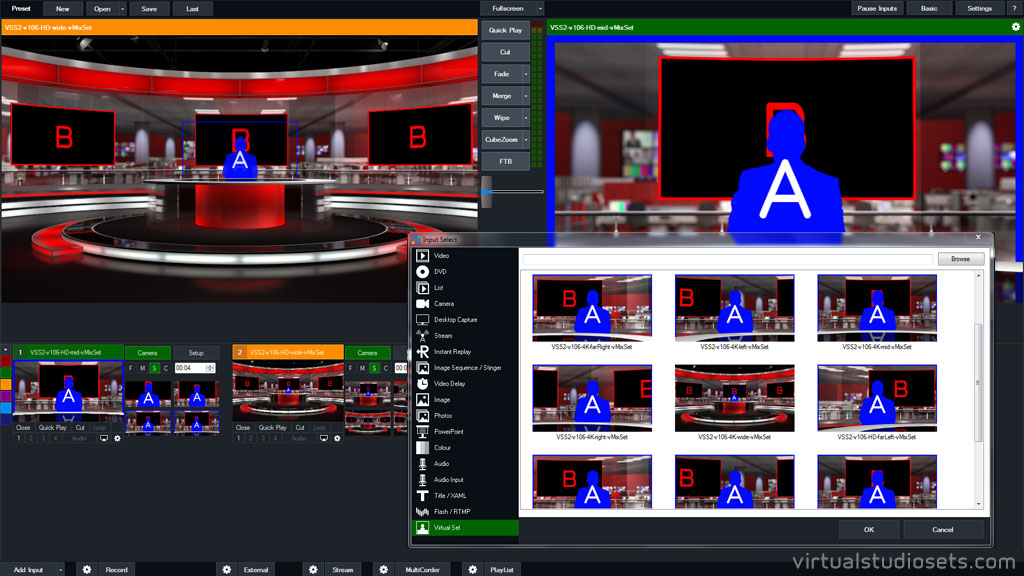 The wide angle is set up to show reflections of the background newsroom and the inset screens in the shiny floor sections, and reflected talent in the desktop. The close-up angles all show the talent, the background, and the inset screens reflected in the desktop. The layers are set up to display the desktop in front of the talent.
Each vMix set is supplied in its own (zipped) folder. One way to get up and running quickly is to unzip it, and copy or move the folder and its contents into the Program Files (x86) > vMix > VirtualSets folder on your vMix machine, so it can be found alongside all the supplied vMix sets (CircularStudio, LateNightNews etc). It should then show up with a thumbnail when you 'Add Input > Virtual Set'.
As usual, these sets are available with the artwork at two different sizes – HD (1920×1080) and 4K (Ultra HD, 3840×2160).
Because the number of separate layers has been greatly reduced – you may find these are also easier and quicker to get up and running in non-linear editors like Premiere pro or Final Cut. Also, the format of the new UV gradients makes them compatible with After Effects plug-ins like RE:Vision RE:map and ft-UVPass.