Virtual Chat Show Set – coming soon!
August 14, 2015 virtualstudiosets.com
Here's a sneak peek at Studio 4 – the latest virtual set from virtualstudiosets.com. UPDATE: Studio 4 is now 'live' and available to download from the store!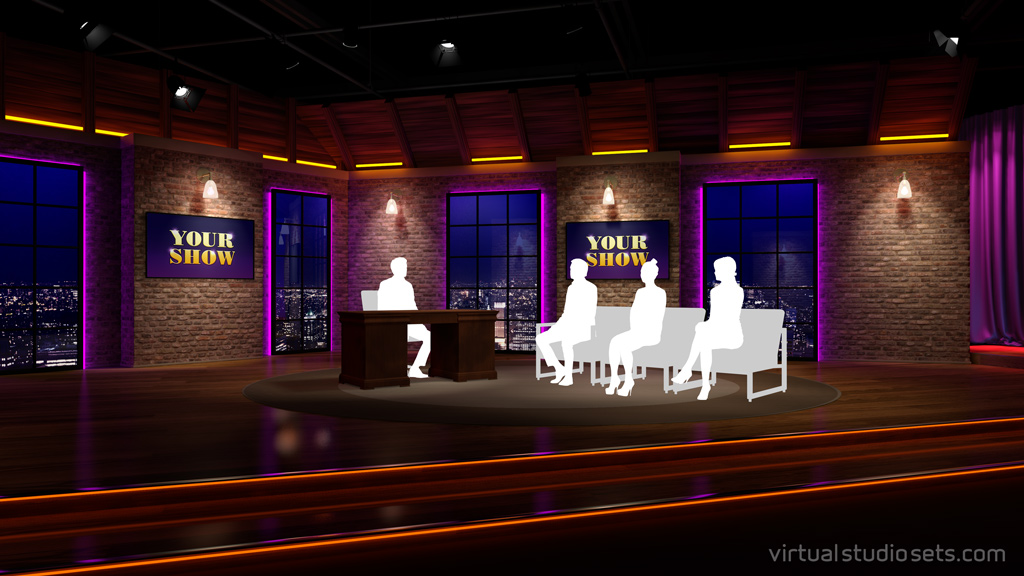 This new virtual set is inspired by 'loft apartment' style talk shows and will be great for chat and discussion formats.
It will come with a wide shot (shown here), plus plenty of mid angles and close-ups for presenter and guests.
I'm really excited about this set – there are going to be some really nice customisation options with this one!
Obviously you'll be able to use your own logo or live feed into the screens on the walls, and you'll also be able to change the images outside the 'windows'.
The desk can be removed completely so you can use the set with your own 'real' furniture if you prefer.
But the thing that set this apart is that I've also worked out a way of getting lovely glows on the neon strip-lighting that won't go all messy when you try and adjust the colour. You'll also be able to adjust (or remove) each colour group independently, giving you virtually infinite colour combination possibilities..!
Honestly, it's thing of beauty..!
To show you what I mean, here's the same set with colours adjusted – notice how those neon strip-lights have all changed colour without going all weird and funky…! And they're all still producing nice reflections and spill just like real studio lights would. (click the image for a bigger version!)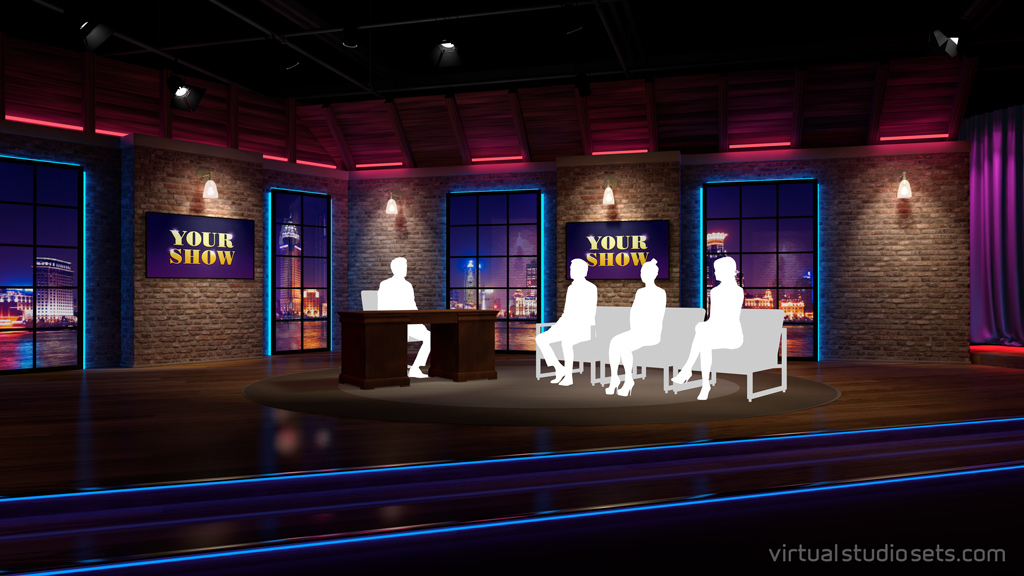 If you'd like to be notified as soon as this virtual set 'goes live' then please do drop me a line.
Incidentally, I'm always on the look-out for TriCaster users (TriCaster 8000, also TriCaster Mini and any other '2 input' devices) who might be interested in trying out beta versions in return for generous discounts..!.
As always, please head over to the virtualstudiosets.com store where you can check out (and download!) my other virtual sets, newsroom loops and free backgrounds.