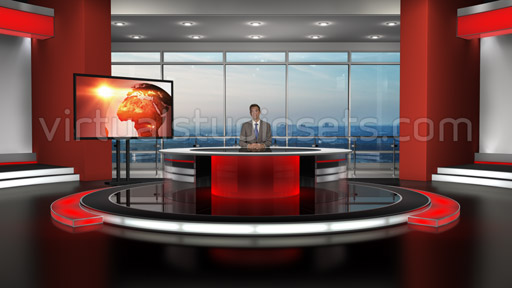 Studio 1 (wide)
single angle
---
HD version (1920x1080)
€
75
Add to cart
---
4K version (3840x2160)
€100
Add to cart
---
This is a single camera view (wide angle) of Studio 1 (also available as part of the complete Studio 1 multi-angle pack).
Studio 1 features a great skyline view behind the main presenter (or presenters), that you can customize with your own imagery. The studio comes with an optional desk, optional plasma screens left and right, and optional non-reflective layers for desktop and riser.
You also get the example layers shown (for the plasma screen and skyline) that you are free to use, or replace with your own imagery.
Available in either HD (1920 x 1080) or 4K (Ultra HD, 3840 x 2160) formats. (Choose your preference above).
Product details
You will receive an email immediately with a link to download your files. All files are zipped (.zip).
You get a complete Photoshop multi-layered document (.psd 16 Bits/Channel) with everything in the correct order and uniquely named.
TriCaster® users will find the Photoshop document works beautifully with Virtual Set Editor. There are UV gradients already set up in position for all live inputs and real-time reflections.
You also get every single layer and matte supplied separately in lossless PNG-24 format. These PNG images have transparency built in, and are compatible with most graphics and editing software.
You also get additional versions included, already set up with their own XML configuration files which you can load directly into vMix or similar.
Designed by BAFTA award-winning broadcast designer Mike Afford.
View EULA (End User License Agreement)
Available only here at
VirtualStudioSets.com