Studio 6 (virtual weather set)
January 20, 2017 virtualstudiosets.com
We're very excited to reveal a sneak preview of our latest virtual studio set – Studio 6 !
UPDATE : Studio 6 is now ready! You can find it here in the STORE.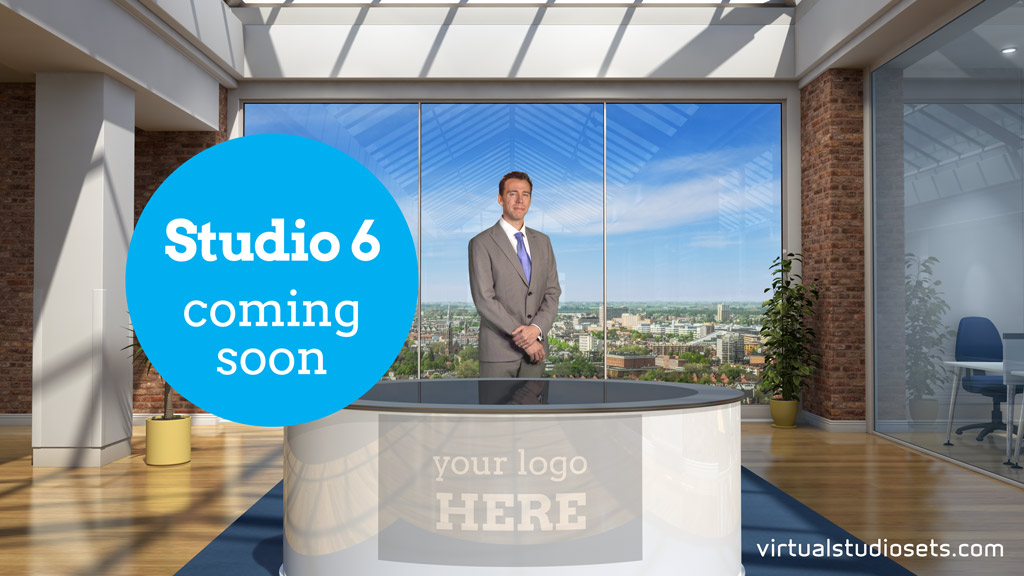 If it looks familiar, that's because you may have already seen our earlier TriCaster version that we designed and made exclusively for The Weather Network UK.
The great news is that we've been working on a new 'unbranded' version, that anyone can buy from our virtual studio set STORE and customise themselves. We're calling it 'Studio 6' (great name, huh?), and it'll be available to download soon, only here at virtualstudiosets.com.
New features include the larger desk which can now accomodate seated talent for interview or discussion formats, an input patch on the desk front that you can use for your own logo or images, plus brand-new MCU's for close-ups of presenter and guests each side.
As you may know, the original studio was designed as a virtual weather set, and featured a number of different backgrounds with different types of weather (you can read more about that here). We are keeping and building on that functionality – the skylines are being completely remade and updated to include more variations from sunny to overcast, plus a night-time version. You will also be able to replace the example skylines with whatever you want – maybe a view of your own town or city – or even a live camera feed (whatever the weather!). Each angle will come in two versions – a 'regular' version, and a special one with sunlight/sunshine and shadows (like the example shown above – obviously that wouldn't work quite so well for night-time…!)
We are also planning to include the 'forecast' position with a screen that you can feed with your own live source (maybe your own weather forecast graphics..?).
As always here at virtualstudiosets.com, Studio 6 will include the full multi-layered Photoshop version as standard (TriCaster users can also import this directly into NewTek's Virtual Set Editor!), plus each layer saved out as a separate (and lossless!) PNG image (for use with Final Cut, Premiere Pro, After Effects etc…). You'll also get pre-made vMix versions that you can copy directly into your vMix Virtual Sets folder and be up and running in no time!
It's all very exciting!
If you'd like to be notified when Studio 6 is ready, then please do sign up for our newsletter at the foot of this page. We only send out very occasional emails, either to announce new products, or for special offers. You can unsubscribe at any time.
In the meantime, you can always visit the virtual studio sets STORE and get one of our other amazing sets..!